Colombian activists use music and art to call for climate action
Vanessa Daza Castillo is a young Colombian lawyer working as an environmental justice researcher at Dejusticia, a human rights think tank, and a fellow at the Climate and Environmental Justice Media program with FRIDA – The Young Feminist Fund in partnership with OpenGlobalRights. This piece was published as part of this partnership, by OpenGlobalRights.
Social media and school striking are not the only ways to bring about social change. While millions of young people, inspired by 16-year-old Greta Thunberg, have struck the world with massive protests and social media campaigns to demand climate action, not all young activists can resort to these tools. Digital activism requires internet connectivity, a basic understanding of social media or other electronic communication technologies, and the ability to use the most widely spoken language on the internet, English. Also, social media may not be as effective in spreading climate activism in rural areas where the audience is mainly offline. Above all, people worried about basic needs, such as food, health, housing, education, and personal security can rarely afford to take time off for this type of action.
However, young activists in Colombia have resorted to alternative activism strategies to demand their government to protect the Amazon forest and act on climate change.
In January 2017, a group of 25 Colombian children and youth aged 7 to 26 sued their government for failing to curb deforestation in the Amazon, the primary source of greenhouse gas emissions in the country. This legal action resulted in a historic Supreme Court ruling, recognizing the Amazon as a legal entity and holding the government responsible for not taking effective measures to stop deforestation. The Court also ordered the government to create, in conjunction with the plaintiffs, academia and civil society, an Intergenerational Pact for the Protection of the Colombian Amazon–a comprehensive pact to protect the Colombian Amazon for present and future generations.
With the Supreme Court ruling, the voices of the 25 plaintiffs transformed into one collective call for climate action. Two young women from this group stand out, and both come from two extremely climate change-vulnerable regions in Colombia, which also face governmental neglect, high poverty rates and restriction to basic goods and services such as water, sanitation, and education. In addition, they stand out because they have developed their own tools to convey the Supreme Court's call for an intergenerational commitment towards the protection of the Amazon and fighting climate change.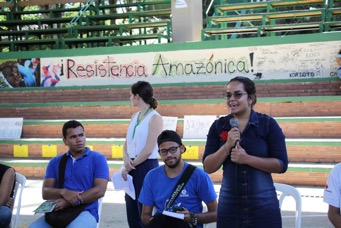 One of these women is Yuli Correa, a 19-year-old psychology student from Florencia, Caquetá, a town located in the Colombian Amazon. For Yuli, the main obstacle for using striking as a climate activism tool is the increasingly dangerous atmosphere environmental defenders face in Colombia: more than 700 social activists have been killed in the past three years. In Florencia, many environmental defenders that have actively opposed oil extraction in the region have received death threats and have been forced to leave town.
That is why Yuli has turned to a less confrontational activism strategy: painting. She joined an artistic collective called Las Botellas, a group of artists dedicated to community building through mural painting and street art. Many of the murals communities have chosen to paint portray the Amazonian people's resistance to fossil fuel industries. Yuli highlights how art acts as a catalyst for collective action. Along the process of discussing community issues, capturing their grievances in drawings and taking over significant spots in town with street art, the community's joint resistance becomes stronger. Street art fosters collective action, provides communities with a vehicle to express their opposition to the Amazon's degradation in the hands of the fossil fuel industry, all without the exposure and confrontation that comes with protesting.
On the other hand, Yurshell Rodríguez is a 24-year-old engineer, member of the Raizal community from the Caribbean island of Providencia, an Afro-Anglo-Antillean ethnic group. Although Yurshell is vocal about the climate crisis on her social media, she also relies on music to raise awareness in offline wider audiences. She belongs to "La Banda del Buda Blues", a musical band formed by young people who believe that music is a tool for social transformation. Their repertoire includes songs about having to breathe polluted air, about "páramos"—an Andean ecosystem that supplies water for 80% of Colombia's population but is threatened by climate change—and about how good it feels to ride in a bike without depending on fossil fuel-powered transportation. They have played at many local music festivals and high schools, and have been invited by Goldman Environmental Award winner Francia Márquez to play at environmental leaders' convenings.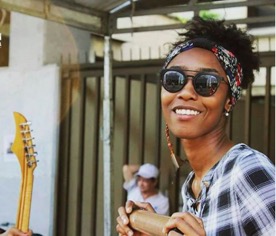 Yurshell believes music is a more inclusive activism tool since it reaches audiences for which social media falls short. With her band, she sings to grandparents, parents and younger children, who either don't own a phone, don't have social media accounts, or are impervious to calls to action online. With these audiences, she feels music is a better tool to incite change: : "People tell us they feel inspired to use a bike when they hear our song… they change their minds and habits almost unconsciously and are more aware of the impact we have on the environment." Music has a particular way of transmitting emotions and stimulating change in people's minds that can be harnessed by young climate activists to spur change among audiences wider than those in the digital world.
Of course, activism doesn't always bring immediate changes, let alone successful action on the climate crisis, which requires major structural adjustments. In Colombia, the Supreme Court ruling and the collective action of the 25 plaintiffs have not translated into significant reductions of deforestation related greenhouse gas emissions. However, they have galvanized a nation-wide debate about deforestation and positioned the Amazon forest's degradation at the top of the public agenda. They have provided a common platform for human rights, indigenous and environmental organizations to further advance their work on climate justice. Due to the plaintiffs' reports on the Government's failure to reduce deforestation, the lower court charged with overseeing the ruling's implementation summoned more than 90 governmental entities to public hearings regarding their compliance with the Supreme Court orders.
The plaintiffs' alternative activism tactics have succeeded at bringing more young people in remote places to the climate change conversation. For example, more than forty young environmentalists from the Amazon region attended a creative activism workshop held at Florencia, Yuli's hometown, in which she stood out for teaching fellow activists how to use painting to incite change.
Their activism inspired the emergence of new young activist leaders and collectives, including a Fridays For Future Colombia chapter. In sum, although stopping deforestation remains a challenge, the Supreme Court decision and the 25 plaintiffs have paved the way for the youths' rise as key actors in the climate change public debate.
Activism is a dynamic strategy that evolves and adapts to the needs of local communities. Yuli, Yurshell and the 25 plaintiffs are an example of how young activists around the world are learning to develop their own strategies to incite change at the local level, while in the pursuit of a global goal to contain the climate crisis.
---
Featured image: Mural in Medellin. Credit: Verdad Abierta.